About us
FROM THE FOREST -

FOR THE FOREST
The Mayr-Melnhof-Saurau family has worked in forestry for generations. Today its company is the largest private forestry business in Austria. Its woodlands are mostly in mountainous regions, which naturally presents special challenges for managing forestry efficiently and at the same time sustainably.

It's therefore no surprise that the family began early on to reflect on adapting timber harvesting technology for its own purposes – and began to develop its own solutions. The focus was the development of forestry machines for timber extraction in mountainous terrain. By using this machinery in the company's own operations it was continuously tested, adapted and optimised in a harsh working environment at an average gradient of 63%.
These efforts were so successful that other forestry companies started to take note and, as a consequence of the constantly increasing demand, a separate company was set up in 2007: MM Forsttechnik GmbH. We concentrate exclusively on continuing and developing the expertise for cable technology in forestry that we started building up in the 1960s.
Our techniques and procedures successfully bring the two most important aspects of forestry into harmony:
Economy: low timber harvesting expenses thanks to rapid extraction (transport) from the logging site to the road network
Ecology: low-impact timber transportation using environmentally-friendly and energy-saving machines with minimal damage to the remaining forest and young growth.
Our TÜV-tested cableway machines can be used flexibly and meet the highest safety standards. They work uphill, downhill or on the flat with variable tractive force and can be installed on a range of different vehicles. It is, therefore, with good reason that they are technological market-leaders in Europe and are in use successfully all over the world.
Innovation
1955   KÜPFERWINDE: 
    first self propelled winch from 
    Switzerland

1963   GÖSSER SEILKRAN: 
    first tiltable cable yarder in Europe, 
    designed and built by Mayr-Melnhof

1973   HYDROKRAN: 
    first fully hydraulic driven cable 
    yarder

1982   ZIELAUTOMATIK: 
    first cable yarder with automatic 
    distance and speed control

1995   SYNCROFALKE®: 
    new development of the 3-cable-
    system SYNCRO-Technology

NOW     SYNCROFALKE®, WANDERFALKE® and MM-SHERPA® are continuously developed to reach highest technology levels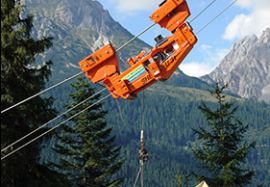 The MM-SHERPA® is a universal carriage specially designed to work with cable yarder SYNCROFALKE® and WANDERFALKE® as well as on all other cable yarder systems for …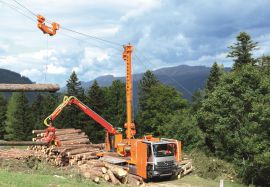 The SYNCROFALKE® is a all-terrain cable yarder, which allows working uphill, downhill and in flat terrains with highest performance. Special features of this machine …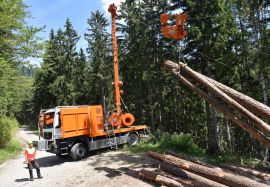 The WANDERFALKE® has been developed for yarding small or medium sized timber and can also be used for thinning. The direct hydraulic driven winches guarantee a …